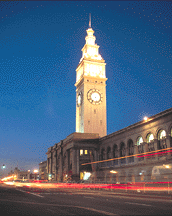 EMBARCADERO
SF Map: N-Q, 6-7

Stretching across the heart of the Financial District is the Embarcadero Center, an ultra-modern five-building complex of offices, shops, fine restaurants, movie theatre, two hotels, Justin Herman Plaza and SkyDeck, the Center's new panoramic viewing deck.

San Francisco's waterfront has changed dramatically since the 1989 earthquake which led to the demolition of the Embarcadero Freeway in favor of a water-level thoroughfare. San Francisco's southern waterfront, lined with palm trees and hip eateries, has emerged as the City's most exciting new neighborhood.

The centerpiece of the Embarcadero is the Ferry Building, at the foot of Market Street, which opened in 1896 before bridges were
built and crossing the bay was more difficult. The building is still used as a terminal for commuter ferries to Tiburon, Larkspur, Sausalito, Alameda, Oakland and Vallejo.

Levi's Plaza, located between Union and Greenwich streets and Battery and Sansome streets, is the world headquarters of Levi Strauss. Interesting shops, restaurants and a Levi's Jeans History Wall are located here.

NOTE: The Ferry Building serves as the marker from which piers are numbered, odd numbers are located to the north and even numbers to the south.