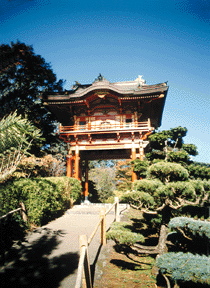 GOLDEN GATE PARK
SF Map: B-D, 10-11

Golden Gate Park is among the world's greatest urban parks. Approximately three miles long and a half mile wide (1,017 acres), this treasure is covered with grassy meadows, wooded bike trails, secluded lakes, open groves, gardens and several museums.

The M. H. de Young Museum features an outstanding collection of American art from Colonial times to the mid-20th century. The Asian Art Museum, an annex of the de Young Museum, displays one of the world's most acclaimed collections of Oriental art.

The California Academy of Sciences, a three-in-one museum, consists of the Morrison Planetarium, Steinhart Aquarium and the Natural History Museum.

The Conservatory of Flowers, built in 1879 and modeled after London's Kew Gardens, is a glass Victorian displaying a paradise of flowers. (The Conservatory is currently closed for repair.)


Strybing Arboretum and Botanical Gardens contains the Garden of Fragrance, the Moon-Viewing Garden and the New World Cloud Forest. The Japanese Tea Garden is a four-acre refuge of traditional Japanese architecture, koi ponds and bamboo trees.

Attractions at the west end of the park include the Dutch Windmill and the historic Beach Chalet visitors center. At Stow Lake, paddle and row boats can be rented for a trip around the lake.
The herd of bison that graze in an enclosed paddock just off Kennedy Drive have been a
tradition at the park since the 1890s.

The Children's Playground offers swings, slides and climbing structures as well as the restored Herschel-Spillman Carousel.

Every Sunday from dawn to dusk, strollers, roller skaters and bicyclists are allowed free run on a long stretch of John F. Kennedy Drive which closes to auto traffic.