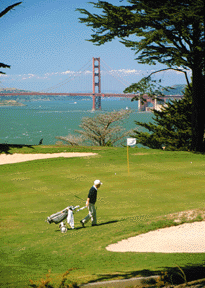 LINCOLN PARK
SF Map: A, 5

Lincoln Park is perched high above the Pacific Ocean where the view of the pounding surf, Golden Gate and Marin Headlands are unparalled. The park is home to the California Palace of the Legion of Honor, a Neoclassical masterpiece modeled after the Palais de la Legion d'Honneur in Paris. This memorial to the Californians killed in World War I is also home to San Francisco's Fine Arts Museum, closed for underground expansion and seismic renovation.

Although the museum is the main attraction here, the park still merits a stop to revel in the architectural splendor, photograph the spectacular views and observe one of the five original bronze casts of Rodin's Thinker which is the centerpiece of the Court of Honor, the museums main entrance.

Also located in the 275-acre park is the 18-hole Lincoln Park Golf Course. The course, lined with Monterey cypress trees and offering sweeping views to the Golden Gate Bridge, is a perfect setting for a relaxing game.

NOTE: Tee times for the popular Lincoln Park Golf Course should be made well in advance. Call (415) 221-9911 for information.

---


[ Previous Page ] [ Home ] [ Next Page ] [ Maps ] [ Phone Directory ]

---

San Francisco Online / SFO*USA
by Bay City Guide
© Copyright 1996 Guide Publishing Group, Inc.
All rights reserved. Reproduction without permission is strictly prohibited.


[email protected]

---