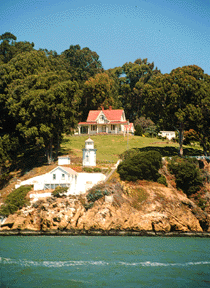 ANGEL ISLAND
SF Map: L, 0

North of Alcatraz is Angel Island, a former U.S. Immigration station. The 740-acre island is
now a state park and wildlife preserve that offers incredible vistas of San Francisco and Marin County.
The woodsy island is a popular spot with campers, hikers, bicyclists, picnickers and sunbathers.
Mountain bikes can be rented in San Francisco and brought on board the ferry or rentals are
available on the island. An audio-enhanced guided tram tour of the island's historic sites and military
garrisons is also available. Also popular is the naturalist-led kayak tour.

Note: Angel Island campsite reservations may be made by calling (800) 444-7275.

Blue & Gold Fleet Fare: $10. Weekends.
Pier 41, Fisherman's Wharf 773-1188 H

Alcatraz & Angel Island Tour Blue & Gold Fleet's "Island Hop" -the best way to see both islands, includes ferry transportation and audio tours. Pier 41 705-5555

---


[ Previous Page ] [ Home ] [ Next Page ] [ Maps ] [ Phone Directory ]

---

GuideYou.com
by Bay City Guide
© Copyright Guide Publishing Group, Inc.
All rights reserved. Reproduction without permission is strictly prohibited.


[email protected]

---