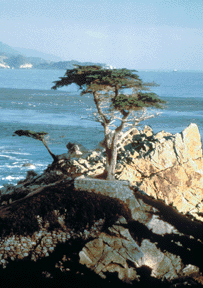 MONTEREY
N CA Map: A, 13

With its wild, rocky coastline and brick cannery buildings, Monterey still maintains much of the flavor of John Steinbeck's Cannery Row.

Specialty shops, restaurants and antique stores line historic Cannery Row and the wharf area. Steinbeck fans will enjoy a stop at the Steinbeck Museum also located on Cannery Row. At the end of the stretch is Monterey's biggest attraction, the Monterey Bay Aquarium. The aquarium is home to more than 6,500 specimens of marine life indigenous to the Monterey Bay including playful sea otters, graceful sharks, elusive octopus and fierce wolf-eels. Other highlights include the Touch Tide Pool, the Kelp Forest and the recently renovated two-story sea otter exhibit. With its calm, clear water, the Monterey Peninsula is also a popular site for scuba diving and water sports. Equipment can be rented in the area and check for underwater tours lead by experienced divers.

17 Mile Drive is the scenic route between Monterey and Carmel. The road winds along the rugged coast and curves through groves of Monterey Pine and Gowen Cypress trees past the famous Lone Cypress and Pebble Beach Golf Course. An admission to the route is charged but the scenic views are well worth the price.

NOTE: When traveling to the Monterey Peninsula the most scenic drive from San Francisco is along Highway 1 which follows the Pacific Coast line to Monterey. A quicker route, for those on a tight schedule, is to take Highway 101 South to Highway 156 West which connects to Highway 1.

---


[ Previous Page ] [ Home ] [ Next Page ] [ Maps ] [ Phone Directory ]

---

San Francisco Online / SFO*USA
by Bay City Guide
© Copyright 1996 Guide Publishing Group, Inc.
All rights reserved. Reproduction without permission is strictly prohibited.


[email protected]

---