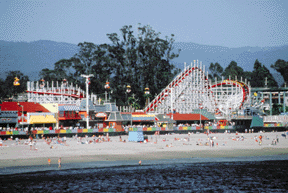 SANTA CRUZ
N CA Map: B, 10-11

Visitors are drawn to Santa Cruz because of its natural beauty and temperate climate. In addition to the beach resort's most popular attractions, Santa Cruz Beach Boardwalk and Coconut Grove, you'll find water sports, golf, tennis, museums, accommodations and dining located nearby.

Built in 1907, the Santa Cruz Beach Boardwalk amusement park features two national landmarks, the Giant Dipper, a 70-foot high wooden roller coaster constructed in 1924, and the Looff Carousel, a hand-carved and hand-painted 1911 carousel featuring 72 magnificent horses and two chariots. The park features 20 major rides, seven rides for children, games, arcades, an indoor miniature golf course, restaurants, shops and entertainment for the entire family.

At the opposite end of the Boardwalk is Coconut Grove, a grand ballroom which in its heyday featured dance concerts by some of the biggest names of the big band era including Benny Goodman and Tommy Dorsey. Roaring Camp in nearby Felton is a recreation of a 19th-Century logging town. The best way to see the area is by a steam powered railroad which departs from the Boardwalk on a two hour excursion through the redwoods to the camp.

---


[ Previous Page ] [ Home ] [ Next Page ] [ Maps ] [ Phone Directory ]

---

San Francisco Online / SFO*USA
by Bay City Guide
© Copyright 1996 Guide Publishing Group, Inc.
All rights reserved. Reproduction without permission is strictly prohibited.


[email protected]

---