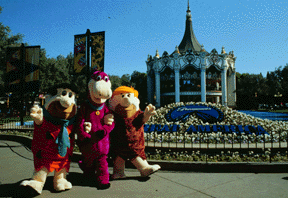 SOUTH BAY
N CA Map: B-C, 8

South of San Francisco is the heart of the Silicon Valley, an area named after the silicon chip that was invented here and home to leaders in the high-tech field.

Located in Santa Clara is Paramount's Great America, a 100-acre theme park that combines thrill rides, shows and movie magic. Have the slime of your life in the all-new kid's area, NICKELODEON Splat City, where everyone is part of the adventure. View breathtaking IMAX giant-screen movies, meet your favorite Hanna- Barbera characters or fly like an F-24 pilot on the Top Gun suspended jet coaster. The park is open daily in the summer and on weekends during the spring and fall.

California's third largest city, San Jose, offers museums, dining, shopping and cultural events. The Winchester Mystery House was built by Sarah Winchester, heiress to the rifle fortune, who believed that she could amend past wrongdoings and live forever by continuously building onto her house 24 hours a day. The result of Winchester's occult beliefs is a house made up of narrow passage ways, doors that lead nowhere and zigzag staircases. During the tour of this historical landmark, visitors have the opportunity to explore both the bizarre and the beautiful found in the 160-room mansion.

---


[ Previous Page ] [ Home ] [ Next Page ] [ Maps ] [ Phone Directory ]

---

San Francisco Online / SFO*USA
by Bay City Guide
© Copyright 1996 Guide Publishing Group, Inc.
All rights reserved. Reproduction without permission is strictly prohibited.


[email protected]

---